Blaxhall v. Saxmundham June 2005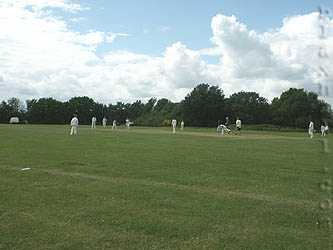 The Blaxhall Oval
After a couple of evenings of practice, Blaxhall played host to a Saxmundham team which included several promising younger cricketers. Blaxhall opted to bat, and the first wicket fell on the first ball of the day, with J Cutting the victim of a superb delivery (Ahem!! thought it was a juicy full toss - Ed) from B Thurston. Kevin Culley steadied the ship and ended with Blaxhall's highest score of 33, also collecting two wickets later in the day. Andy Duckett and Paul Keeble contributed healthily with 20 and 14 giving Blaxhall a respectable total in the 90s.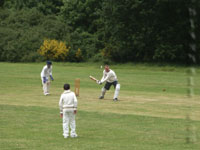 Andy prepares to hit out
A couple of massive showers saw the players scampering to the cover of the tent but held up proceedings little - one was the perfect excuse for an early tea. Saxmundham started their innings slowly with two ducks but picked up speed with Scott at No 3 and N Brett at 5 contributing the top two scores of 19 and 10. Blaxhall fought back with some tight bowling and fielding, finally winning by a margin of some 20 runs.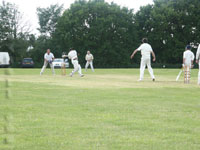 Kevin surprises the batsman
As the photos show, the field was prepared beautifully, and the beer tent provided welcome refreshment during the match. The match was followed by a well attended and jolly social evening including a barbecue and a great deal of fun was had by all!