Blaxhall and the local area
Blaxhall is a small village in east Suffolk, around 10 miles west of the North Sea coast. The closest coastal town is Aldeburgh, home at one time to composer Benjamin Britten. Renowned for good fish and chips, its ancient Moot Hall, the RNLI lifeboat, charming cottages and an unhurried atmosphere, Aldeburgh is well worth a visit. During the summer there is often work by local artists on display in one of the galleries, if not, it is but a short walk to see the striking sculpture by Maggi Hambling on the beach.
Flourishing from a seed sown by Benjamin Britten are Britten Pears Arts, who organise the very popular Snape Proms among other concerts and events, at the world class Snape Maltings concert hall, only 2 miles from Blaxhall.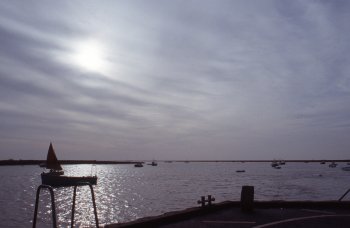 Back to the coast and a few miles south of Aldeburgh lies the unspoilt village of Orford, its magnificent castle keep silently watching over quaint streets and pretty yachts. River trips are available from the quay, heading out around the RSPB reserve of Havergate Island and up river towards Aldeburgh.
North of Aldeburgh good swimming can be had at Dunwich during the summer, and the town's fascinating history can be discovered in the museum. Southwold, although some 20 miles from Blaxhall, is well within reach for an afternoon jaunt and is home to the finest brewery on the planet, Adnams.
Also in the vicinity there is a gym/sports centre at Rendlesham, and Tunstall village hall has badminton courts. Leiston has both a sports centre and swimming pool, and further facilities can be found in Woodbridge.
Within the parish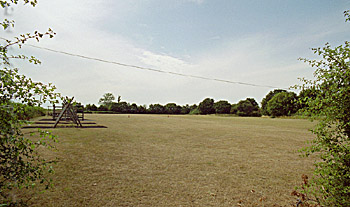 Blaxhall has one of the largest playing fields of any village in the area, and it is very well kept. While it is the venue for the fete, and the annual village match, most of the year it is open for all to enjoy. There is a children's play area including swings, tyres and a climbing frame; a slide has recently been installed on the grassy mound. Tennis courts have been discussed in the past but I understand that there were some objections and they now appear unlikely. There is a basketball hoop at the west end, and the Sherrif's beacon in the southwest corner, where the annual fireworks are traditionally held.
The village hall, at present halfway through the extension project, is a popular venue for a variety of leisure activities. It also serves as the meeting place for the Parish Council and can be hired out for private functions.