Blaxhall Festival Weekend - 2005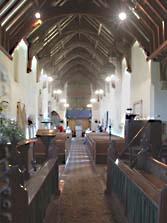 To match the success of last year's festival was a tall order. Standing alone this year, without the added attraction of the Art Show in the village hall or crafts at Longfield nursery, the charming display more than entertained visitors to St. Peter's Church. Such a warm and friendly space at any time, it was a joy to take time to appreciate the hard work and creative spirit that was evident in the bedecking of windows and the painstaking arrangement of flowers.
I understand this year the nautical leaning was in celebration of St Peter, as we all remember a fisherman at the time he met Jesus.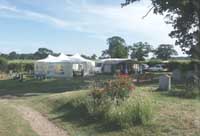 Having worked up a thirst inside the church, visitors were treated to home baked cakes and teas outside.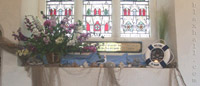 On the Saturday of the Festival weekend, a Blaxhall medley was once again performed; I missed it this year but reports were favourable!