Blaxhall Festival Weekend - 2006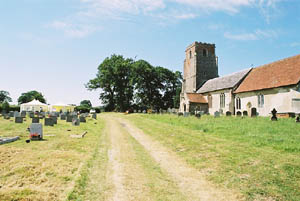 Now in its third year, Blaxhall Flower Festival once again attracted a steady stream of visitors. There were some wonderful flower arrangements in the church, with the theme this year being light.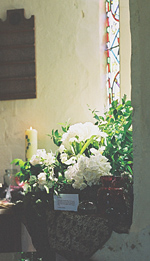 The weather for the weekend could not have been better, and St Peter's, warm and welcoming at any time, looked especially beautiful both inside and out.
The theme rather suited the church with light streaming through the windows, and it was intruiging to see the different interpretations represented in the displays.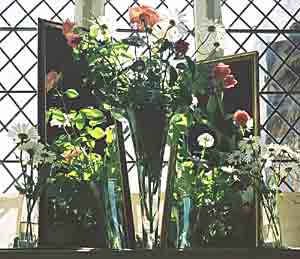 There was an evening of entertainment on the Saturday, and I understand several contributors played to a full audience.
The marquees were again pressed into service, and provided welcome shade from the midday sun. An expert team led by Sheila Scopes provided some delicious lunches, cakes and refreshments, and the event should provide a welcome boost for church and village hall funds.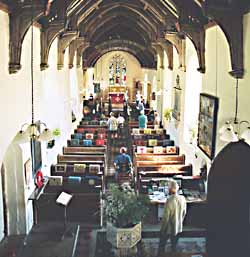 Much of the organising was done by Tilly Locker; with the displays being arranged by Joyce Iszard, Mollie Pictor, Clara Jenkins, Violet Skeet, Maggie Grenham, Jill Kerr, Sheila Scopes, Florrie Shaw, Dinah Greenfield and June Rope. Tilly also found time to arrange a display herself.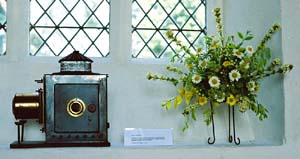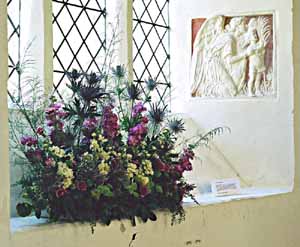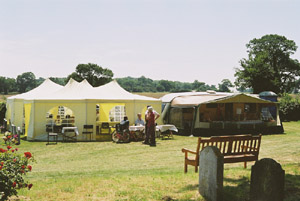 Art Show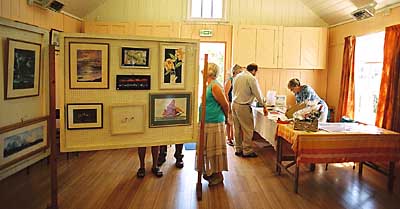 Similar to the first flower festival, this year's event was ably complemented by an art show in the village hall. On display were a wide variety of styles, with contributions from Maggie Hambling of the Aldeburgh Benjamin Britten sculpture fame. Jason Gathorne-Hardy, who writes a passage in the Ebb and Flow had work on view, but in all there were over twenty different artists represented. I understand that twenty-three painting in all were sold over the weekend, a remarkable acheivement.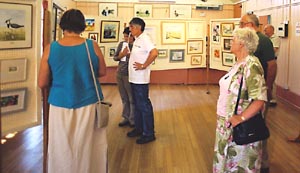 The ongoing success of this event in Blaxhall's calendar should mean another next year - I certainly hope so.