The Surname Blaxhall
Further to the request for any Blaxhalls to contact Blaxhall.com (see feedback), I have received several emails:
(for a history of the surname see below or click here)
Andrew and Lis Blaxhall have been in touch, from Nuneaton. Andrew has 2 siblings.
Update 13/11/2003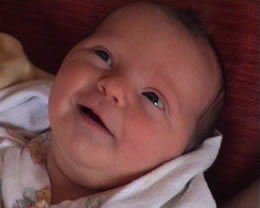 I've just received an email from Andrew and Lis to inform me of the wonderful news that the Blaxhall count has been increased by one. The culprit is Esther Elise, born on the 2nd September 2003. Best wishes, perhaps Chris (see left) might feel the urge to speak to his wife somewhat heightened by this news!
Update 7/5/2005
It is with sadness that we report the passing of Dr. Peter Blaxhall, Andrew's father, who had featured on this page. He had been researching the Blaxhall name. He died on the 30th April after a short stay in Hayward House Hospice in Nottingham.
There may be no connection dogwise (see left) but interestingly, there is a slightly eyebrow-raising coincidence between those Blaxhalls living in Oxfordshire and their Antipodean cousins. The Oxfordshire Blaxhalls have a daughter called Melody Blaxhall. Chris Blaxhall, author of the missive on the left, emailed me to say that his ear had been chewed by his sister, whose maiden name was Melody Blaxhall. Surely it is a pretty remote chance to meet anyone called Melody at all, let alone find two that share the same surname!
Dear Postmaster,
I stumbled across Blaxhall.com when I was mucking around looking for my own name. I read about the search for Blaxhalls and thought I'd contribute.
My name is Chris Blaxhall and I live in Melbourne, Australia.
My grandfather migrated out here in the 50's. He was born in Manningtree but grew up in Aylsham. He had a brother called Charles.
He was Robert Charles Blaxhall, and had five children, Keith, Jean, Beryl, Roy and Sonia, who all live in Tasmania. As far as I know my family are the only Blaxhalls in Australia.
From the offspring of that generation, my sister and I are the only ones who still carry the name.
I'd be amazed if we could be connected to any family tree as we have little contact with anyone not on the continent.
Conversely my mother can trace her line back to Private Lucas, a first fleet Marine.
Blaxhall has always held some fascination for my family. I suspect we know more about the history of the name than most Blaxhallians do. We have had hot debates over the Heraldic Arms (it seems there are two, maybe you could shed some light on this?)(can anyone help here? - email me) and Roy, my father, recently stayed three nights at the Ship Inn whilst on holiday in England. He said he thoroughly enjoyed himself, his highlight was a ride on the steam traction engine.
My sister Anitra has had plenty of opportunities to visit as she lives in England. She is an opera singer, just recently finished with Glyndebourne and is starting soon with The Welsh National Opera.
On the Canine bias
The family here display a large leaning towards German Shepherds and in most cases wouldn't feed a West Highland Terrier to a cat.
I just thought I say 'Hello' to the Blaxhall world at large and let you know we exist and that the continuation of the name in Australia rests entirely on my shoulders. Perhaps I should go speak to my wife..
Regards
Chris Blaxhall
A brief history of the surname Blaxhall
Whilst it is difficult to say for certain whether or not the family name Blaxhall originates with the village, there is at least some evidence to suggest that it does. A quick glance at the International Genealogical Index for Britain shows some 49 events involving the surname Blaxhall (not including alternate spellings), starting in 1618. Since all 49 of these events took place in the county of Suffolk and around 50% of them were within 10 miles of the village, it seems very probable that at some time in the past, possibly between 1400 -1500, an individual or family residing in the village took on it's name - which was then carried forth by their offspring as they began to disseminate to surrounding villages and eventually further afield. Another possible line of research are two characters who appear in the early records of Cambridgeshire and Essex, Adam de Blakesale and Roger de Blaxhale. Since "de" meant "of" and the spelling/pronunciation of the period would result in their names being pronounced "Blaxhal" or "Blaksal" then it follows that we effectively have Adam of Blaxhall and Roger of Blaxhall. As yet, however, we have no known link between either of these gentlemen and our Suffolk village, so whilst a connection seems likely it remains unproven
The 1881 and 1901 census show 14 and 20 Blaxhalls in the whole of the UK respectively, (again not allowing for spelling variations) but interestingly not a single one was either born or living in the village, and less than 50% were to be found in Suffolk. It would appear our fledglings had already spread their wings.
The last definite Blaxhall in Blaxhall that we currently know of was a young lady called Sarah. Christened in the village on 3rd November 1754, she later married Jacob Hammond in nearby Stratford St. Andrew and remained in that village until her death in 1788 when just 33 years old. There is a tantalising occurrence some 140 years later in the 1890's, when a couple of entries appear for a family by the name of Blaxcell. They originated in Kelsale / Darsham and only stayed in the Blaxhall for a few years, but could they have been long lost descendents briefly visiting home?
Shane Pictor, 2003 (updated 23rd March 2004)